Six days. 12 states. 1,945 miles. That's one way to start a road trip. Other than a few stops in Delaware and Ohio to visit some of Mark's family, we didn't want to waste any time getting out West. Fortunately, this will likely be the biggest stretch of driving for the rest of the trip. We'll primarily stay on the left side of the map from here on out.
Our first stop in Delaware wasn't too far from where we started. But after a hectic scramble to try and empty our old house, it was nice to have a place to take a breath, regroup, and reorganize the van. We kind of just threw in everything that was left on Tuesday and hit the road. And after repacking everything that we ended up with in the crazy exodus, we only had to leave behind two Jetboil canisters and a couple of extra Nalgene bottles. Miraculously, everything else fit.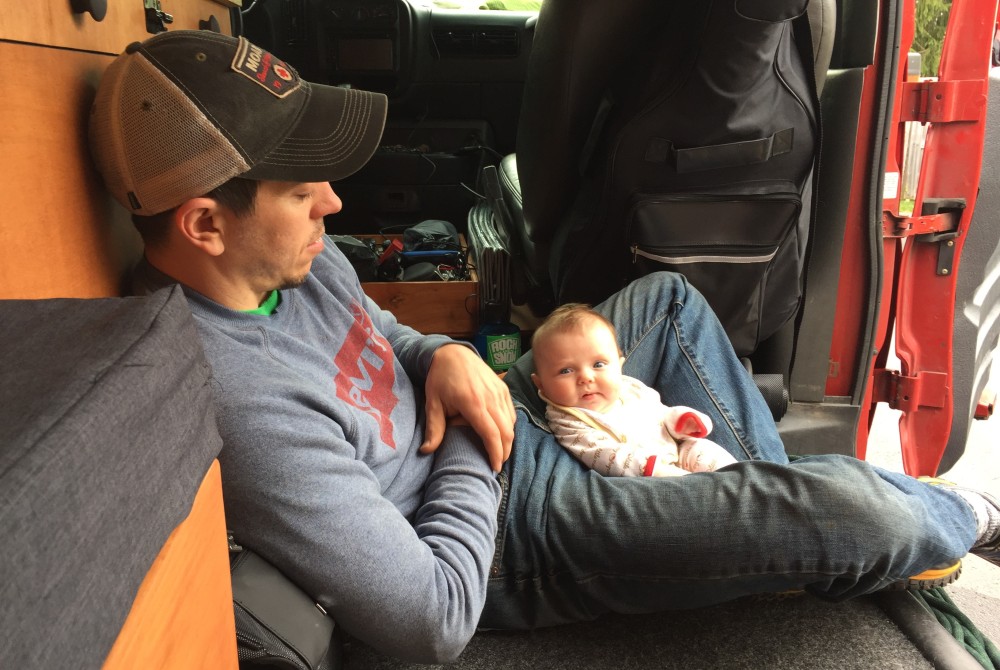 Kingston still isn't sure what to think of everything. He has traveled with me before, but nothing like this. We knew going into it that he was going to be our biggest challenge. He's getting crotchety in his old age and doesn't really get along with other dogs. And it just so happens that the first three places we stayed have two, one, and five dogs, respectively. So it was a crash course in manners for him. Any aggression he has towards other dogs is all fear based. He's really just a big coward. Sure, he may look tough and have a mean bark, but, and I'm not exaggerating here, the big bad pitbull ran and hid from a teacup yorkie named Tinkerbell. Yeah, real ferocious. He's doing well, though. The van has quickly become his comfort space. And with so many new sites and smells, it's easy to wear him out every day.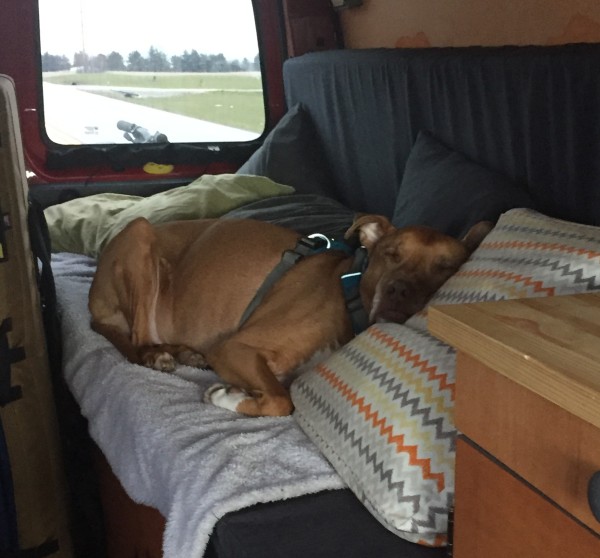 As for the humans, we're adjusting just fine. Long hours on the road are filled with podcasts and ebooks. (Any recommendations are welcome, by the way.) The van is nice and comfy. We've figured out how to make and pack away the bed while we're in it. It'll probably take another week or two of rearranging here and there to figure out the best place for everything. We're getting the hang of urban camping, sleeping in truck stops and Walmart parking lots. And we've only had to go a few days without showering so far. That's going to change soon, though.
So this is how it has started. Days 1 and 2, visiting family in Delaware. Days 3 and 4, visiting family in Ohio. Days 5 and 6, mad dash drive across the Midwest. We probably could have made it all the way to Boulder on day 6, but we wanted to be able to see the Rockies as we drove in. So we called it a night in Limon, CO, and then drove the last 90 miles into Boulder on the morning of day 7, watching those magic mountains spring up in front of us.
Our plan was to spend a few days in Boulder, climbing the Flatirons and exploring Boulder Canyon, but mother nature has thrown us a curveball. With winter storm Selene on her way, we don't want to get stuck on this side of the mountains, so we're going to keep heading west to Grand Junction and then Moab. Maybe one of these days we'll actually get to do some climbing.