The good thing about not having a plan on a road trip like this is that you can go anywhere you want, anytime. The bad thing is trying to actually decide where to go. Weather is usually a deciding factor, so we'll scope out the forecasts of various places to see what is trending hot, cool, or wet. Also, Mark really wants to dedicate a good chunk of time to bouldering to build some strength for these higher grades. We considered heading back down the Front Range, since we got pushed out by snow earlier on the trip. But camping in Colorado in the middle of the summer can be a nightmare and very expensive. We also thought about heading east into South Dakota to check out the Black Hills and Spearfish. Leavenworth, Washington was another possibility, promising cooler temps and lots of bouldering. Unable to make up our minds and commit to a big drive, but wanting to escape the heat in Ten Sleep, we decided to head back towards Lander. Wild Iris, the area that we weren't able to get to when we were there last month because it was still buried in snow, was open now. It's also at about 9000 feet and a good deal cooler than the surrounding area, so it's a prime summer destination. Plus, it's only a couple hours drive, so we could justify staying for as little or as much time as we'd like while we research more and decide where the next big destination will be.
Wild Iris is beautiful. It's about 25 miles southwest of Lander, along Limestone Mountain. The hillsides are covered with wildflowers and the cliffs are shaded in big pine and aspen trees. There's free camping all along the base of one of the cliffs. We can leave the van right at our campsite and walk to the climbing in a matter of minutes! And the rock quality is fantastic. This might be my favorite place we've visited so far. (City of Rocks is up there, too.)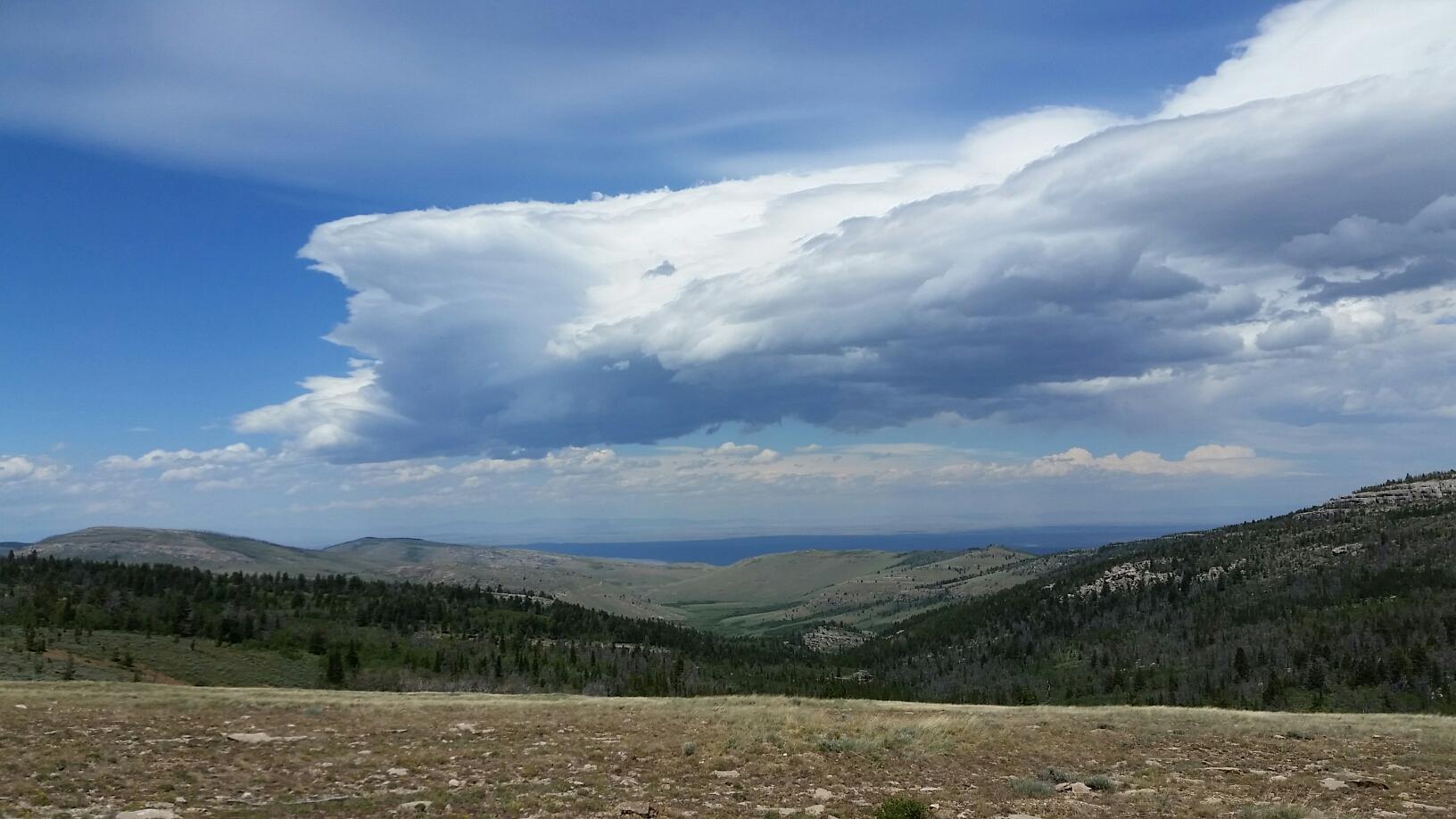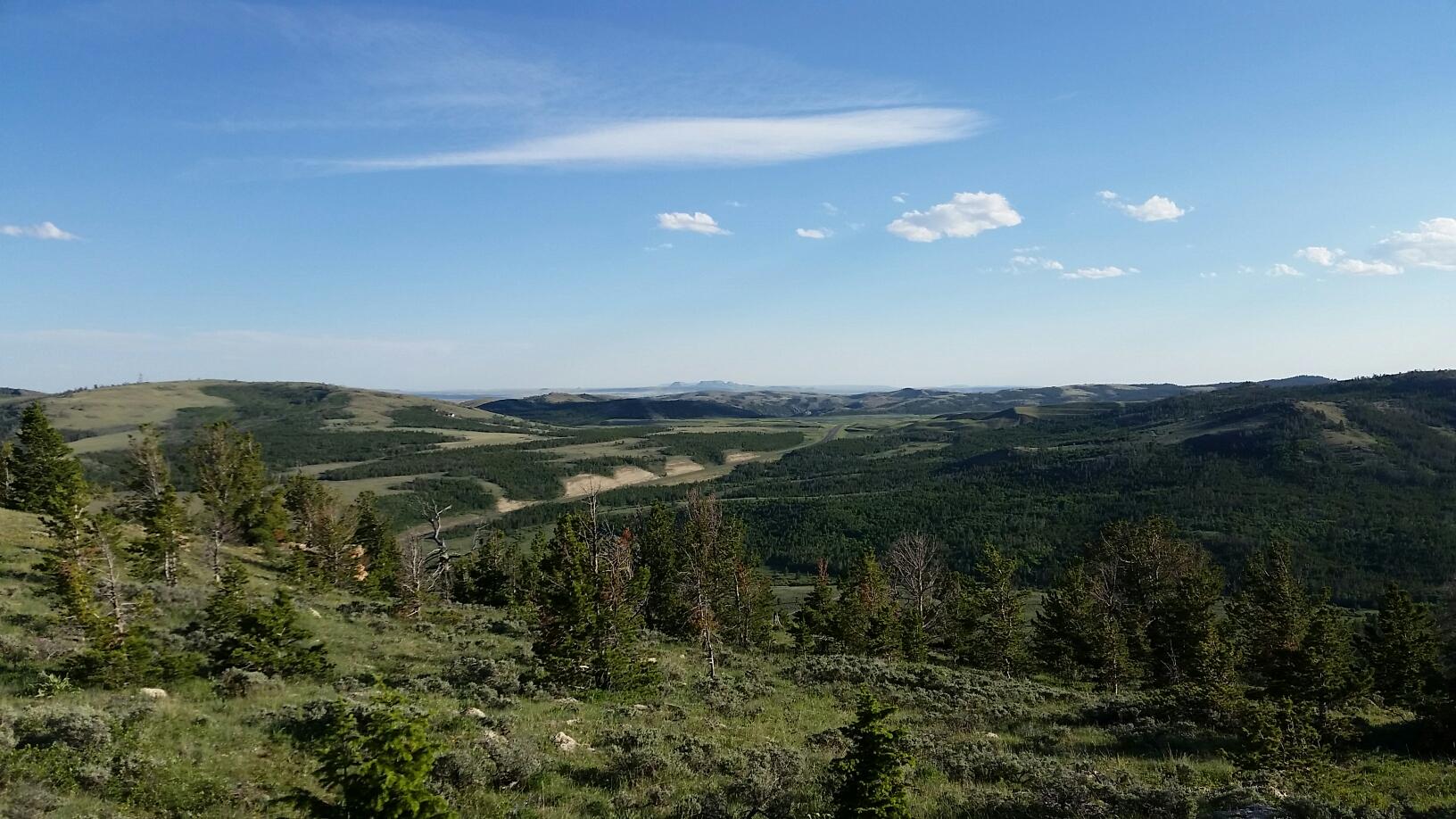 Climbing in Ten Sleep was really good for me. With its closely bolted routes and relatively soft grades, it's a good place for a new leader like myself. I was able to get in a lot of new leads and build some confidence on the sharp end. When we got to Wild Iris, I assumed the grading would be comparable to Sinks Canyon, and therefore, a little steeper than Ten Sleep. For some reason I had 5.9 stuck in my head as my lead limit here. I think I was still remembering a few 8s in Sinks that gave me a lot of trouble. On our first few days out I lead a handful of climbs in the 7 to 9 range. Even though I was climbing 10s on toprope with no trouble, I couldn't get past the mental block to lead them. I even managed to climb an 11d on toprope. I hung twice, but was able to make all the moves.
After climbing at Wild Iris for a week I finally had a mental breakthrough. We first warmed up on some 7s and 8s, and there was a 10c on the same wall. It was short, slightly overhanging, and very closely bolted. Overhanging usually means pump-fest for me, but it looked like good holds from what I could see and I was feeling pretty confident. With a little encouragement from Mark I decided to go for it. It definitely was pumpy and I was pretty shaky by the end, but I made it! My first 10c lead! After that the barrier had been broken. Leading 10s didn't seem so impossible. That same day I followed it up with leads of two 10as, a 10b, and another 10c. The 10b and last 10c were my favorites, called "Imagine What I Can Do to Your Face" and "The Man From Laramie."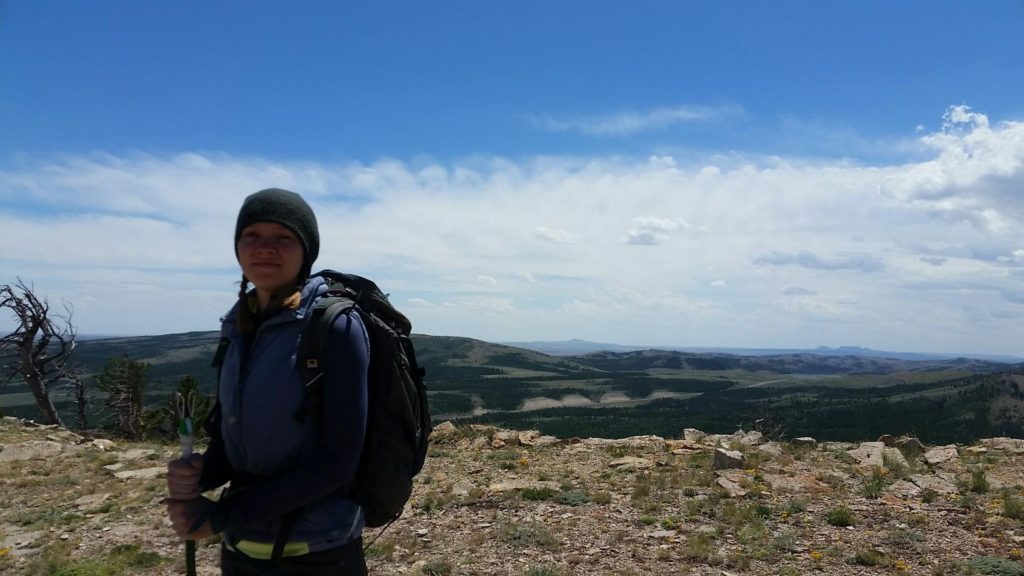 That was probably my best day of climbing so far on this trip, and it really shows how far I've come in just three months. (I was barely following 9s before we left.) A few days later I was even able to climb an 11a clean. It was on toprope, of course, but I did it without hanging. Another first. But it's not like 5.10 leads are now a cakewalk for me. A few days later I had a mental blocker of a day and really struggled on all of the climbs we got on, from 5.7 to 5.11a.
Like with anything, there will be good days and bad. I just have to keep trying to remember those good days and keep the confidence levels up. I also have to learn how to fall. I'd say I have a healthy fear of falling, and it's certainly not an irrational fear to have. For the most part, when trad climbing the mantra is that the leader doesn't fall. Sure, you place gear to protect against a potential fall, but if at all possible you'd rather not have to find out if it will hold. But in sport climbing, with fixed gear securely bolted to the wall, if you're not falling, you're not climbing to your full potential. On that mentally taxing day I did take my first very small fall. The last bolt was about waist height so I only fell a couple feet, but it was a start. I really need to practice falling higher and higher above my last bolt, though, to get used to the feeling and reinforce in my mind that it's not that scary. Baby steps. There's always more to learn, and sometimes the mental training is even more difficult than the physical training.